---
"Which planet do you come from?"

This page requires English translations from skilled translators.
---

The Golden Fox is a machine piloted by Dr. Stewart / his Anime Universe counterpart.
In both the Main and Anime Universes, the Golden Fox is stated to be designed by Dr. Stewart's father, Kevin Stewart and the Anime Universe counterpart respectively. However, the Animeverse Kevin is merely mentioned in one of Bart's F-Zero Classroom segments.
Main Universe
F-Zero (SNES) US Manual
During the design and construction of this machine, its developer, Kevin Stuart (now deceased), gave priority to acceleration. In compensation for its power output, the body was made to be light to reduce the G force on the course surface. This characteristic makes it difficult to strike a good balance between turning and engine power, resulting in difficult cornering. It is an undeniable fact that the Golden Fox stands up poorly to impact. Pilots using this machine are required to have a high level of skill.
Note: The US Manual initially spelled Kevin Stewart's last name as "Stuart."
The Golden Fox is an available machine from the start.
F-Zero GX Complete Guidebook (JP)
Golden Fox (JP): パイロットの父である故ケビン スチュワートが設計したマシン。路面へのGを減らして加速力を最優先したため,パワーに比べてボディが軽量となっている。コーナリングにおけるエンジンパワーとのバランスを保つのが難しく,衝撃にも弱い。パイロットには,高度なテクニックが要求されるマシンといえる。
Golden Fox (English Translation by Sidier): A machine designed by Kevin Stewart, the late father of the current pilot. It prioritizes lowering the G in the surface and having high acceleration.

As a result, the body is lighter than the power it packs. It's hard to keep the balance of the engine power when at cornerings, and is also weak against collisions.

You could say that this machine demands of its pilot a very advanced (driving) technique.
Nintendo Power F-Zero GX Player's Guide
When building the Golden Fox, the late Kevin Stewart placed all priority on acceleration. Accordingly, the body is light and its grip on the track is poor for such a powerful machine. Because of this design, when the Golden Fox corners, it is difficult to maintain a balance between speed and control. It is also admittedly weak when faced with attacks. A refined driving technique is an absolute requirement for its pilot.
F-Zero GX/AX in-game CARDT data
The late Kevin Stewart chose the acceleration as a top priority while building this machine. Thus, the body is lightweight to reduce the gravity, so it's difficult to take control of the machine and the engine power while cornering. Since the body isn't so tough, the pilot will also be required for an advanced skill.
Anime Universe
---
| | |
| --- | --- |
| | ALL CANON F-ZERO ELEMENTS IN THIS SECTION ONLY APPLY TO THE ANIME UNIVERSE. |
---
The Golden Fox is piloted by the Animeverse Dr. Stewart.
There is a red variation that is piloted by Anthony Ropkin in the present day during Lap 14, but has no name nor number.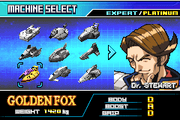 The Golden Fox is a machine featured in the F-Zero GP Legend GBA game.
F-Zero Climax
Golden Fox (JP): マシンナンバー03

ボディはデリケート、グリップも弱く、コーナリングのテクニックを必要とするマシンだが、ストレートでのブースターの加速、スピードは他のマシンを寄せつけない。
[Proper English Translation required.]
References